Long range wireless two channel ir receiver YET428
Long range wireless two channel ir receiver YET428
2023-08-07

The distance of most of our ir receiver is about 80meters to 100meters.Now we release this 2 channel receiver YET428 with longer distance which open receiving distance is more than 180 meters.Please do not miss it if you have high requirement of long distance receiver.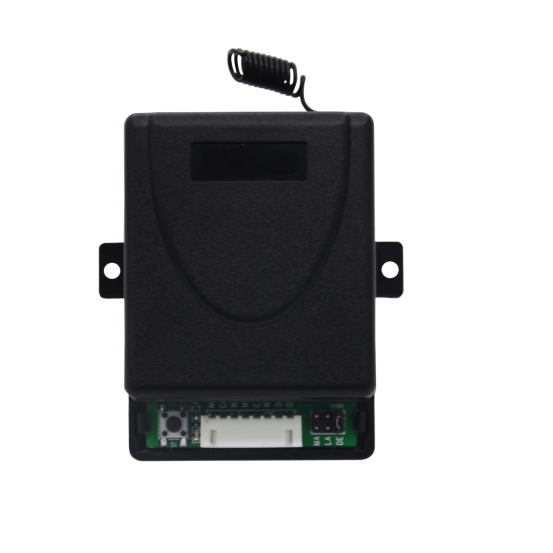 The static working current of this YET428 long range receiver is ≤ 10mA. It can work under the temperature form -20 ℃ to +70 ℃.Its receiving sensitivity is ≥ -110dBm . Working frequency are 315MHz or 433MHz (optional) . The Contact current is ≤ 20A@14VDC , 5A@250VAC
7. Remote control capacity: 30 (learning code) Pin position 8, 7 useful
There are 12v and 24v for your choice.For power input selection:
12V: Jumper cap plug board is at 12V position
24V: Jumper cap plug board is at 24V position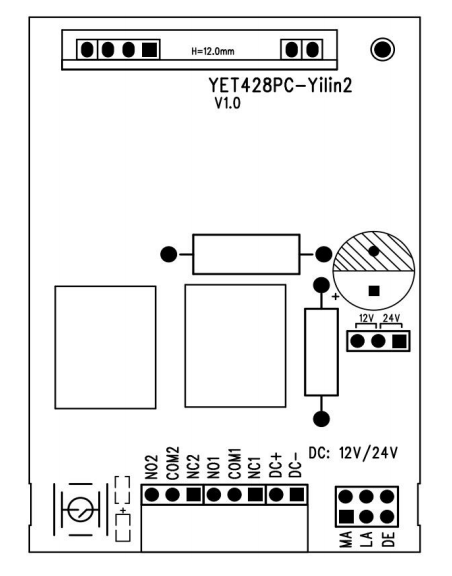 More explanation for above Diagram:
NO1: One channel normally open
NC1: One channel normally closed
COM1: One channel common terminal
NO2: Two channels normally open
NC2: Two channels normally closed
COM2: Two channels common terminal
DC+: Positive pole of power supply
DC -: Negative pole of power supply
There are four output method for optional,they are signal inching、signal interlocking、signal delay for 3 seconds、signal self-locking.And you can set them as below,
1. Signal inching - - Jumper cap inserted into MA position
2. Signal interlocking - - Jumper cap inserted into LA position
3. Signal for 3 seconds - -Jumper cap inserted into DE position
4. Signal self-locking - - jumper cap not connected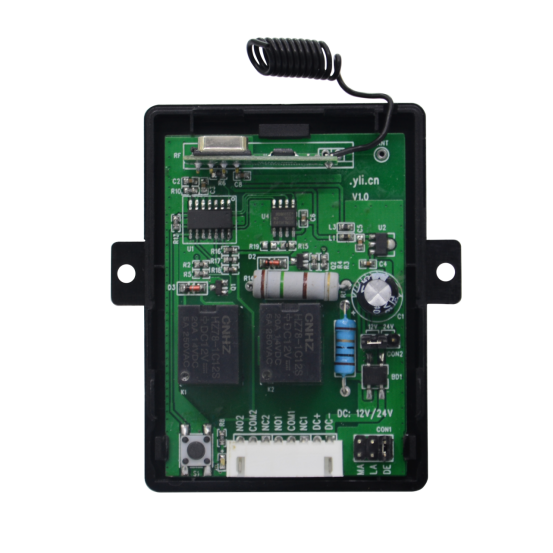 About

Methods and steps for learning and clearing codes
Learning:
Press the learning button on the receiver, release it unitl LED light flickers. The receiver enters the learning state (LED goes out this moment), then press the remote control button that needs to control the receiver. When the LED light of the receiver flashes quickly 5 times and goes out, it indicates that the learning has been completed. It can learn up to 30 pcs remote control buttons of this type.
Clear code:
If the rf remote control is lost and you want to disable it all, you should press and hold the learn button (for more than 8 seconds), wait for the LED light to turn off, and the receiver will automatically clear the contents of the memory. If the garage door remote control is found after several days and you want to reuse it,you just need to learn it again according to above learning steps.
We usually pack this receiver with plastic bag or white box,if you want to customize your own colored box,it is available,as long as you provide your box design file for us.
And if you want to print logo on the products,it is also available.You provide the logo file for us ,our designer will provide you with a reference drawing to check.After approved,we will print it for you.
Above are the details of this YET428 ir receiver I would like to share with you,if you are interested in this long range receiver,please feel free to contact us to get samples for test.