Introduction to 2-way controller, 4-way controller, and WiFi controller YET402PC-V2.0
Home
News
Product news
Introduction to 2-way controller, 4-way controller, and WiFi controller YET402PC-V2.0
Introduction to 2-way controller, 4-way controller, and WiFi controller YET402PC-V2.0
2023-06-05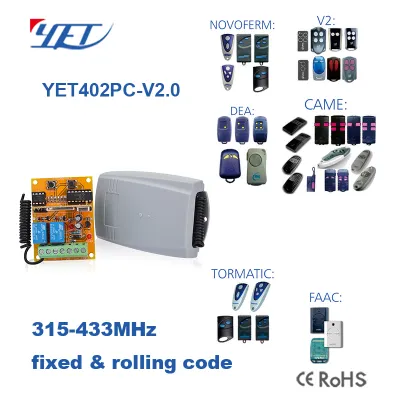 YET402PC-V2.0.It is a 2 channels DC9-24V big memory receiver.It can be matched with the majority of the wireless receiver in the market, including fixed code (2262, 2260, 2264 etc.), learning code(1527, 2240 etc.), rolling code(HCS301, HCS300 etc.).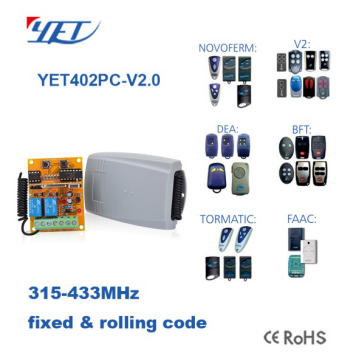 It has two channels. The learning button 1 on the controller, corresponds to the relay 1, the learning button.
YET402WFR_V2.0 is a updated version.YET402WFR-V2.0 (2 channel smart receiving controller) is 2 channel controller with remote control and WIFI control, which output on/off switch signal.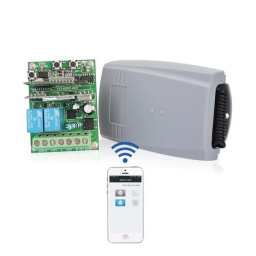 It has advantaged as followed:
It can be used as a single product or networking [Multi-product] to be

 

controlled.

Network configuration is simple and convenient.

It support various remote control on the market, including fixed code(2262, 2260, 2264 etc), learning code(1527 etc), rolling code(HCS301, HCS300 etc) and part of brand remote control(CAME).

It has high security, large memory, stable performance, and low power consumption.

Plug and play, use easily, safe and reliable.
YET404PC-WIFI(Four channels wireless intellect receiving control)is a dual system controller with RF & and wifi what can provide switch signal to the fourth relays.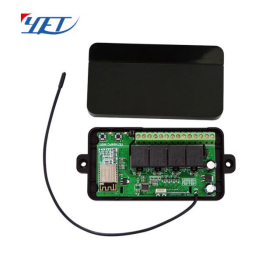 Mode Declaration:
1.Momentary: The relay switches ON by pressing a button on the remote control and will remain ON until button is released. u
2.Latched: Press 1-circuit-channel for 1 time,other channels are OFF .u
3.Toggle: Press transmitter button for 1 time,the receiver relay is ON,press button again,the receiver relay if OFF.
4.1/2 channels toggle and 3/4 channels momentary: Press 1/2 channels for 1 time to switch the status,press3/4 channels will remain ON until the button is released.
NOTE:The mode is selected by the hop cap of the controller.You will know more details from the user manual.
Operating Instruction:The method is suitable for the above three receivers.
Press the learning button on the controller and then release it after LED lamp is lit and the controller enters into the learning status.After that,press any corresponding button on remote control.If LED lamp on the controller flashes for 3 times and then is off, it indicates that the learning is success.
Methods and steps for clearing code:
Long press the learning button (more than 5S) until LED lamp is off.