Infrared Sensor – How it Works, Types, Applications, Advantage?
Infrared Sensor – How it Works, Types, Applications, Advantage?
2023-07-17
Infrared sensors are a specific type of motion sensors 
that use infrared radiations. The main use-case of this device is within physical security and, in particular, for intrusion detection purposes. The two types of infrared sensors are active infrared sensors and passive infrared sensors with these last ones being the preferred ones in the context of physical security.
How do Infrared Sensors Work?
Active infrared sensors work with radar technology and they both emit and receive infrared radiation. This radiation hits the objects nearby and bounces back to the receiver of the device. Through this technology, the sensor can not only detect movement in an environment but also how far the object is from the device. 
The advantages of our photocell :
No reflector required.
Any distance within 8 meters can be set.
Anti strong light and motor interference .
DC/AC 9-24V.
Power off memory protection function.
Their low power requirements make them suitable for most electronic devices such as laptops, telephones, PDAs.
They are capable of detecting motion in presence/ absence of light almost with same reliability.
They do not require contact with object to for detection.
There is no leakage of data due to beam directionality IR radiation.
They are not affected by corrosion or oxidation.
They have very strong noise immunity.
Specifications:
Technology: Active infrared radiation
Receiver parameter range:<20m
Infrared emission frequency:1.92Khz
Input power :DC/AC 12-24V
Wavelength:940nm
Input Current:RX 15mA-TX30mA
Angle of incidence:< +-10
Use environment:-20℃~70℃
Maximum load|:1A max 30V
Dimension:108x35x30MM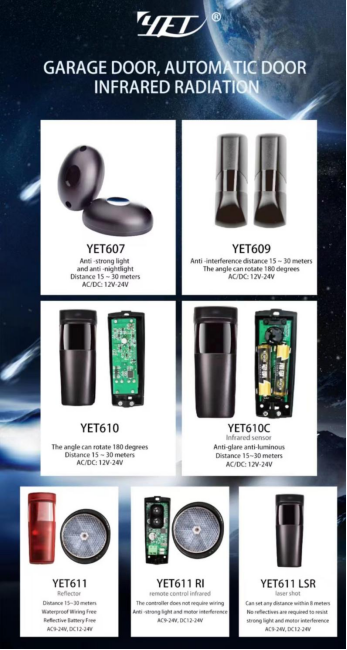 Key Elements of Infrared Detection System
The key elements of Infrared Detection System are:
IR Transmitter
IR Transmitter acts as source for IR radiation. According to Plank's Radiation Law, every object is a source of IR radiation at temp T above 0 Kelvin. In most cases black body radiators,  tungsten lamps, silicon carbide, infrared lasers, LEDs of infrared wavelength are used as sources.
Transmission Medium
As the name suggests, Transmission Medium provides passage for the radiation to reach from IR Transmitter to IR Receiver. Vacuum, atmosphere and optical fibers are used as medium.
Generally IR receivers are photo diode and photo transistors. They are capable of detecting infrared radiation. Hence IR receiver is also called as IR detector. Variety of receivers are available based on wavelength, voltage and package.
IR Transmitter and Receivers are selected with matching parameters. Some of deciding specifications of receivers are photosensitivity or responsivity, noise equivalent power and detectivity.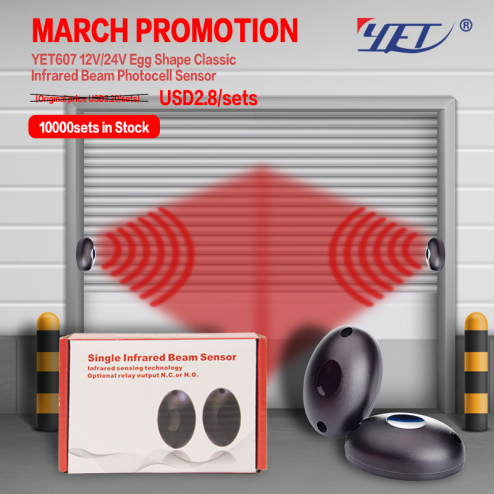 Applications of Infrared Sensor
IR sensors have found their applications in most of today's equipment. Following are the list of sensors which are named after its usage.
Proximity Sensor
These are used in smart phones to find distance of object. They use principle called Reflective Indirect Incidence. Radiation transmitted by transmitter is received by receiver after being reflected from object. Distance is calculated based on the intensity of radiation received.
Item Counter
This use direct incidence method to count the items. Constant radiation is maintained in between transmitter and receiver. As soon as object cuts the radiation, item is detected and count is increased. The same count is shown on display system.
Burglar Alarm
This is one of widely and commonly used sensor application. It is another example for direct incidence method.
It works similar to item counter, where transmitter and receiver are kept on both the sides of door frame. Constant radiation is maintained between transmitter and receiver, whenever object crosses path alarm starts off.
Radiation Thermometers
It is one of key application of Infrared sensors. Working of radiation thermometer depends on temperature and type of object.
These have faster response and easy pattern measurements. They can do measurement without direct contact of object.
Human Body Detection
This method is used in intrusion detection, auto light switches, etc. Intrusion alarm system sense temperature of human body.
If the temperature is more than threshold value, it sets on the alarms. It uses electromagnetic system which is suitable for human body in order to protect it from unwanted harmful radiations.
Gas Analyzers
Gas Analyzers are used to measure gas density by using absorption properties of gas in IR region. Dispersive and Non Dispersive types of gas analyzers are available.
Other Applications
IR sensors are also used in IR imaging devices, optical power meters, sorting devices, missile guidance, remote sensing, flame monitors, moisture analyzers, night vision devices, infrared astronomy, rail safety, etc.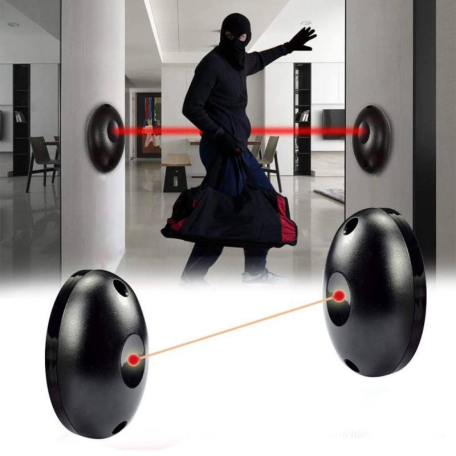 Feel free to contact with me if you need them,I will be at your service!