433MHz Universal 2 Channels Receiver for Garage and Gate Door YET402PC-V2.0
433MHz Universal 2 Channels Receiver for Garage and Gate Door YET402PC-V2.0
2023-05-08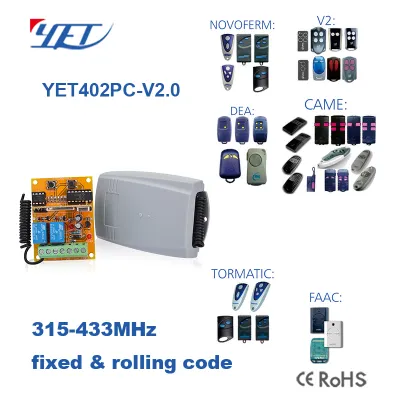 Dear Manager,
Good day to you!
This is Yaoertai, a manufacturing of remote controls, receivers, sensors and other accessories in Shenzhen,China over 18 years.
Today I will introduce our 2 channels receiver to you- Item#YET402PC-V2.0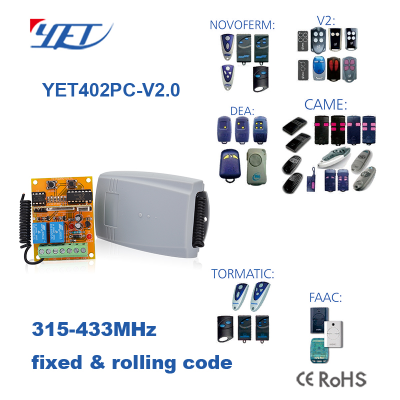 Model Number: YET402PC-V2.0
Working voltage: DC9V-DC24V
Working temperature: -40℃- +80℃
Working frequency: 315MHz、433MHz(Optional)
Remote control capacity: 400
Static working current: ≤7mA
Receiving sensitivity: ≥ -112dBm
Contact current: ≤ 3A
Channel: 2
Size: 90x60x28.5mm
Features of the Controller:
The product is a general smart receiver and it can be matched with the majority of the wireless receiver in the market, including
fixed code (2262, 2260, 2264, etc.),
learning code(1527, 2240, etc.),
rolling code(HCS301,HCS300,HCS200,HCS201, HSC100,HCS101 etc.)
and a part of customized remote controller(CAME, BFT, FAAC, etc.).
Please do contact with me if you've interested in this product!
Hoping I can get your reply soon!