The wireless receiver module is widely used in various smart home controls due to its high efficiency, and is well received by everyone. Then how does the wireless receiver module play its role? The following small series and everyone together to uncover the three main functions of the wireless receiver module.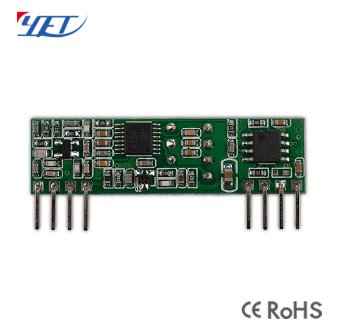 The three main functions of the wireless receiver module:
1. A wireless communication network for building a star topology. And it must be a multi-point star topology, and some extraordinary places require wireless communication. On the one hand, such wireless receiver module are inexpensive, and the cost of forming a star topology is relatively low; on the other hand, the wireless receiver module can be modular, small in size, easy to use, and easy to integrate. This kind of wireless receiver module is very practical for wireless networks with low communication speed and close proximity.
2. For wireless multi-channel (parallel) control. For example, complex remote control robots require multi-channel (parallel) control in some locations. One method is to directly connect the decoder to the decoder, and then connect with the electronic components such as the relay to drive the subsequent controlled object; the other method is to connect the receiving module and the single chip microcomputer, and then use the data after disposal. The MCU connects the electronic components such as relays to drive the subsequent controlled objects. Usually, a pair of wireless receiver modules can realize up to six parallel wireless control. If the required number of channels is greater than six, multiple pairs of wireless receiver modules can be used to work simultaneously to meet actual needs.
3, for universal serial port (RS232 wireless data transmission). There are usually many control instruments and equipment using serial port, and communication with these devices must meet the serial port requirements. Some extraordinary places, industrial control site. Must use wireless transmission mode, can be very naturally choose the wireless receiver modules mentioned in this article. However, in this case, it is necessary to adopt this type of communication. It is necessary to separately compile the corresponding software implementation file format at the transmitting end and the receiving end to achieve the purpose of wireless communication. If the communication system is full-duplex, it can be implemented by using two pairs of infrared sensors and wireless receiver modules.
The above is the three main functions of the small series of wireless receiver modules for everyone. I hope that through this article, everyone has a deeper understanding of the wireless receiver modules. Yaoertai Technology, specializing in R&D and production of wireless transmitting and receiving modules, low power consumption, long distance, a variety of models to choose from, independent research and development production, has won a number of national patents ,business in more than 80 countries and regions around the world. Any questions about the wireless transmitter and receiver module, welcome to come to consult!