The use of electric shutter doors is increasing, and it is much easier to start using the remote control to control the lifting and lowering of the shutter doors. Let me explain to you the configuration method of the tubular motor learning code remote control, and then talk about the configuration method of the dial remote controller handle.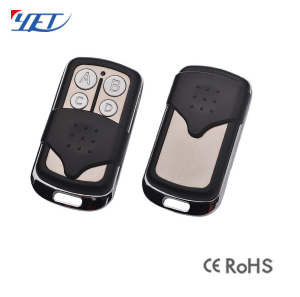 Rolling shutter motor remote control.
Rolling shutter motor controller with dialing code remote control with the same frequency can be matched.If the frequency is different, it is not compatible.Generally, the frequency of 433, 315, 390, and 350 is more. The original remote control handle is welded code, and the code cannot be dialed.
Open the handle of the remote control, there are 8 codes to be dialed, and each code is divided into upper, middle and lower. Find the code table on the back of the controller, which is also 8 codes. The corresponding code table dials the code and can be used.
The above is about the configuration method of the remote control of the rolling door motor, I hope to help everyone. With more than ten years of production and development, we have developed a variety of rolling shutter motor controllers and remote controls. We have accumulated rich practical experience in the field of wireless control. For example, friends who are interested in rolling shutter motor controllers, welcome everyone to negotiate!